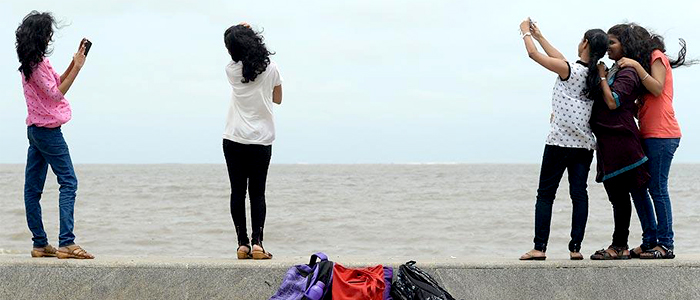 A daring 'jumbo' selfie is what they wanted, but two young men from Kannur ended up being chased out of the forest by an angry elephant when they got 'too close for comfort' to the tusker, who wasn't impressed by the camera flash. The incident became a talking point on social media sometime ago. While the two managed to escape unscathed, many others who attempted similar selfie stunts weren't as lucky. The year 2015 saw the maximum number of selfie deaths, with India topping the list! Not surprisingly, metros like Mumbai are thinking of demarcating certain 'no-selfie' zones in the city. We analyse areas where the edgy shots would be dangerous or inappropriate in Kerala, which also had its share of selfie deaths.
Railway tracks and stations
In separate instances, two teenagers in Kerala were hit by speeding trains and lost their lives while attempting selfies near railway tracks. One had a 15-year-old lad from Thrissur attempting a selfie in front of a speeding train, while in the other, a 14-year-old boy from Palakkad climbed a stationary goods train for a selfie stunt. But he came into contact with an overhead electric line, suffering fatal burns.
Sadly, despite such alarming incidents, the trend still continues. Says banker Anumol Jose, a frequent traveller, "I often see youngsters attempting dangerous selfies near the doors of trains and also on the tracks. Officials should spring into action and penalise those who risk their lives through such reckless acts," she says.
However, the authorities say that rather than a new rule, awareness is the need of the hour. Trivandrum Railway Divisional Manager Sunil Bajpai says, "There are already rules that restrict photography in public places like railway stations. Those attempting dangerous selfies are breaking them and putting their lives in danger. In such cases, I don't think another rule specifically for selfie would make any difference. The focus should be on creating awareness of the consequences."
Near dangerous animals
It's only been a year since a woman from Gujarat got trampled by a captive elephant at Thekkady, when she attempted a selfie with the animal alongside her family. While animal harassment has always been an issue, the social media craze has led to more of such instances, opines animal rights activist Sandhya N. "The mindless selfies of smart phone users put themselves and others too at risk," she exclaims, stressing that people should exercise caution when approaching animals.
While selfies might be fun for humans, it intimidates animals. Veterinary doctor Jim K K explains, "Friendly animals like monkeys might pose for pictures, but lions and elephants panic when such stunts are tried with them. They feel like you are intruding into their space."
Near or in water bodies
While no major untoward incident has been reported in Kerala so far involving selfies near water bodies, alarming statistics from across the world suggest that it's one of the most dangerous selfie zones. It was just a few days ago that an 18-year-old girl was swept away by high tide and drowned near Bandstand in Mumbai, while trying to take a selfie on top of a rock. A man who tried to save her too lost his life, proving that one thoughtless act can put the life of others too in peril. The instance had prompted cops to identify 16 risky zones where selfies are better banned.
In Kerala, there are strict rules in many places for photography near water bodies. Travel coordinator Rupa Subramaniam explains, "Generally, tourists are instructed to stay within a perimeter while checking out water bodies like dams. However, there are times when some people bend backwards towards the water body to get panoramic shots or include everyone when in a group. Such stunts can prove fatal and therefore it's best to avoid them."
In religious places
A few months ago, Kerala Catholic Bishops Council sparked a discussion when it said that parents should discourage kids from 'exhibiting themselves through selfies.' The observations were also based on the increasing 'touristy behaviour' noted at places of worship that hurts religious sentiments.
Guruvayoor Dewaswom Board former member M Janardhanan says, "In the premises of many places of worship in Kerala, photography is banned and punishable. It is some kind of mental illness if people try to click photos with idols and inside the places of worship, despite warnings. It can be offensive to others."
According to Rev Dr J W Prakash, vice-chairman of CSI Kerala Youth Movement, selfies at public spaces like religious premises is often a nuisance. "It can cause a lot of inconvenience too to others, who are there to pray and spend time in peace."
Like some wise guy wrote in the internet, while we all feel the impulse to click a perfect selfie and share it on social media, remember that if you are dead, you won't be able to update at all!