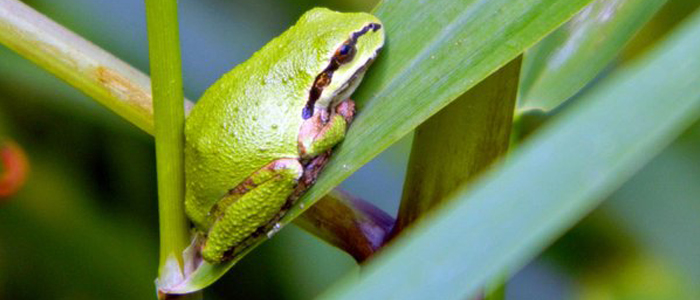 The Travancore Bush Frog (Raorchestes travancorius), a rare and endemic frog species reported from Western Ghats, which was once recorded as extinct, has been located from eight new locations within the Periyar Tiger Reserve.
Incidentally, the species, according to researchers, was wrongly classified as extinct in the Red data book of the International Union for Conservation of Nature despite spotting a live individual some 12 years ago. Though the classification as extinct lasted till June last year, it was subsequently reassessed as Endangered based on its area of occupancy. The earlier assessment was carried out based on the identification of the species from including Vagamon, Chottupara, and outside Periyar Tiger Reserve, which are disturbed areas outside the protected areas.
Recently, a group of amphibian researchers spotted the frog species from the eight locations in the marshy grassland ecosystem of the Periyar Tiger Reserve known as Vayal in local parlance.
During the study, the researchers encountered 36 individuals and a single male was collected for morph metric measurements. The call of the species, which has yellowish pink colouration with distinct brown lines on the dorsum dark brown streak on each side of the snout, was also recorded and analysed. The research team consisted of scientists from Kerala Forest Research Institute and Periyar Foundation.
Though the species was recorded from Uppupara, Gavi, Upper Manalar, Eravanglar, Mangaladevi, Kumarikulam, Moolavaika, and Chokkampatti in the Periyar Tiger Reserve, detailed study was held only in the first site. The researchers suggested detailed surveys in similar habitats of the Reserve to explore the possibility of more populations of the species. Such analysis is required to understand the habitat preference and distribution of the species, the researchers said.
Random searches in the adjacent areas in different habitats succeeded in the identification of the members of the species.
However, not a single encounter took place in the surrounding evergreen forest patches, suggesting that the species was a vayal/grassland specialist, said a research paper published by the researchers in the Journal of Threatened Taxa.